Malorie Blackman month is done with
Char @ From The Shadows I Review
. Check this awesome blog out for more Malorie Blackman stuff SOON! :D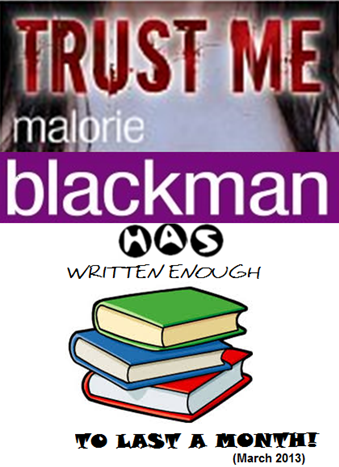 Reviewing...[13]
Source: Library.
Recommended for: High-schoolers/crossover (her paranormals/dystopias for this age are more relevant should I say?)

I know it's a good book when I don't find that chapters are a veil hanging over... When I'm riveted by the very essence of the world and the characters even if most are extremely unlikable! This may be a world where there are another type of Vegetarians* but for once I found myself actually realizing how morally correct that is.
Jayna is completely radiant in her flaws and she makes this book seem a lot more genuine. Trust me is clever as it really helped me to believe in Jayna about as much as you believe in yourself- its as if I can her mental state and not my own. She had a few antagonists and I won't lie, they were VERY censure and I have the urge to give them that 'tude right back!


The Harrisons! Da da-da da-da da-da da da-da-da-daa...

At first I thought the Harrisons were pretty much static characters, as I assumed they were a 75% minor part of 'Trust Me' I was happy... Until I found out I'd be having anger in my soul, I hated his boxed-up not-passive-cos-they'd-rather-be-a-bother (I almost hated him equally).
All these characters were part of an intense story arc which I loved immensely. The ending was unprecedented and I liked it a lot. I feel as if it was fastened together- it impressed me! This book may pluck out your heart strings and only give them back when you've read the last page. Read this very recommended book.



*you know... I'm a Twilight neutral- I'm a Trust Me Fan. Excuse the 'reference'